The Genealogy of the Crusaders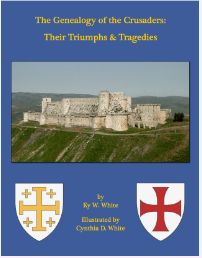 This is the latest book by Ky White featuring lineage charts on the major noble and royal European houses that took part in the Crusades. The book is 450 color pages, featuring biographies of roughly 500 crusaders with accurate coats of arms. It is heavily sourced with over 1,000 footnotes.
Read about what they did, not just who they were. Discover their family relationships, who they came from and who their descendants are. Do you descend from a crusader? This is your chance to know and discover those who sacrificed so much, some for God and some for ambition.